It's June! Which means Father's Day is around the corner (Sunday, June 17). When my kids were little we drew pictures, made cards, and created simple crafts for these special celebrations. So much fun - loved those days! As the kids got older, they will tell you that I "made" them write notes. It was sometimes tortuous, here's why: the note had to be specific and personal, not generalized and "easy" writing. If the note wasn't specific enough, they had to write more. I wasn't looking for length, but substance. You see, my husband's "love language" is words of affirmation and it's important that he receives positive, life giving words from his wife and kids. Plus I wanted to teach my kids to think deeper and express those feelings. Why is daddy so special and why do you love him so much? What is one of your favorite memories this year? This to me was gift giving wrapped in a teachable moment. I think communication is an art and life skill that we all probably should keep working on! Oh yea, you can pack a powerful punch in a simple acrostic, too!
So this year consider your loved one's love language. Is it words of affirmation? quality time? touch? gifts? or acts of service? Whatever speaks to him and fills his personal tank, that's what I encourage you to give him on Father's Day and every day.
Here are 15 ideas to help you get started thinking about your gift...
Remember with any gift, make it your own, giving it your personal flair and touch!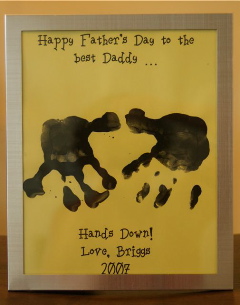 Hand and foot prints change quickly so it's worth capturing every year.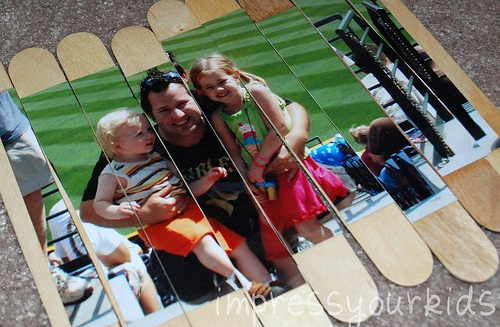 or a simpler approach than the above poster:
SWEETS THAT SAY I LOVE YOU
Pairing a selection of treats with some sweet sayings can make Dad's day extra special. Tape your candy to card stock or poster board and write a clever message next to each piece, such as:
"Because you make us roll with laughter"
"Because you're the jolliest, sweetest Dad"
"Because you're an all-American classic"
"Because you work so hard for all of us"
"Because we love you More & More each day"
Brilliant and practical. Dad always has stuff in his car so make him a place to put that stuff!
And of course, don't forget to make dad that special breakfast treat!
You could easily change the apron decor and make any creation on it with fabric paint or markers or consider screen printing a favorite image.
Remember dad and grandpa this Father's Day with a unique gift especially with him in mind.
Have fun thinking of all the possibilities!!